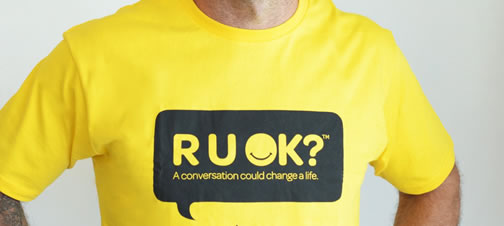 R U OK? is a movement to help remind us all to connect with one another in a meaningful way and to commit to checking in with the people in our lives who might be struggling. Simply asking someone "Are you Okay?" and taking time for them can make a world of a difference. A simple conversation can change a life. To support this movement in Canada you can buy a tshirt and wear it proudly!
Please email ruok@jimyoungfoundation.com or Tony@doorsofhope.com to buy your tshirt in Prince George. Please let us know your size Small - Med - Large - XL
$20.00 each plus shipping the cheapest possible way :)
For more information about R U OK? visit the Australian website www.ruok.org.au or visit the Jim Young Foundation's website at www.jimyoungfoundation.com.