AR U OK? is a movement to help remind us all to connect with one another in a meaningful way and to commit to checking in with the people in our lives who might be struggling. Simply asking someone "Are you Okay?" and taking time for them can make a world of a difference. A simple conversation can change a life. To support this movement in Canada you can buy a tshirt and wear it proudly!
Please email ruok@jimyoungfoundation.com or Tony@doorsofhope.com to buy your tshirt in Prince George. Please let us know your size Small - Med - Large - XL
$20.00 each plus shipping the cheapest possible way :)
For more information about R U OK? visit the Australian website www.ruok.org.au or visit the Jim Young Foundation's website at www.jimyoungfoundation.com.

Intersect
Youth & Family Counseling
250-562-6639
•Children's Comprehensive Resource Program
•New directions Program
•Intersect School Program
•Parents Together
•Youth Around Prince (YAP)
•Crisis Assessment and Management
•Hospital Liaison / Child and Youth Coordinator


Road to Healing

Restoring Hope after a Loved One's Suicide
"When those of us that have been there, reach back and take the hand of those beginning the journey, it helps them to navigate the road they travel. That's why Road2Healing is here." ~ Louise Wirick (Founder)

CLICK LAW
This site provides legal information, education and help for British Columbians.
Your safety
Abuse & family violence
Victims of crime


Your communities
Aboriginal
Disabilities
Immigrants & refugees
Seniors
Women


Your legal system
Alternatives to court
Courts & tribunals
Crimes & offences
Legal help & lawyers


Surpassing Our Survival S.O.S Society

Surpassing Our Survival (S.O.S. Society) provides counselling and support services in a safe and supportive environment for individuals, families and groups. S.O.S. Society works with women, children and men to help them overcome the effects of sexual violence. We advocate for societal change that does not tolerate oppression, exploitation or violence in any form. We strive to influence and increase awareness by delivering public education, and together as a community, create a culture free from sexual violence.
SOS Society
Prince George, BC V2L1W1 - Canada
ph: 250-564-8302 - fax: 250-564-8303

ALSO SEE
Kids Konnection
Circle Of Truth
Stopping The Violence
SOS Society Board Of Directors
Provide Feedback
Addressing Concerns
Take Back the Night


In Kentucky where I practice, we have a law that requires children to have a complete eye examination with an eye doctor before starting school. I get to see lots and lots of kids. I am always amazed at the number of children that have significant vision issues that could affect their ability to perform optimally in school. Often, their parents don't notice anything is wrong. Studies in Kentucky have shown that about 18 percent of children ages 3 to 6 suffer from significant vision problems. Many vision issues can be difficult to detect and frequently are undiagnosed by the typical pediatrician's screenings. Vision screenings at school where a child is asked to identify letters or pictures on a wall chart often don't detect the issue either. Unfortunately, many children with undetected vision problems struggle at school and can be misdiagnosed with attention, behavioral, or reading issues. Often all they really need is correction to give them clear, comfortable vision. Here are some signs to watch out for that may indicate your child has a vision problem:
Squinting - Head tilt or turn - Short attention span for reading or coloring
- Clumsiness or poor hand-eye coordination - Covering one eye - Rubbing the eyes - Headaches

SEE WEBSITE FOR COMPLETE DETAILS


VICTIM BC LINK


Crime Victim Assistance Program
Victim Impact Statement


Ministry of Children and Family Development
Youth Services

Secret of the Silver Horse
If I have violated any copyrights using the Logos please
email me and I will remove them.
tony@doorsofhope. com


My Website is a Community based site without any charges to anyone.
Northern BC Crisis Information
www.northernbccrisissuicide.ca



BC Wide Line 1-800-Suicide - 1-800-784-2433




Northern BC 1-888-562-1214




Youth Support 1-888-564-8336


CHAT FOR YOUTH


Northern Youth Online

Prince George RCMP
Call 250-561-3129
The Prince George RCMP consists of the following:

Administration
Community Policing
Crime Reduction Team (CRT)
Downtown Enforcement Unit (DEU)
Forensic Identification Section (FIS)
General Duty
Police Dog Section (PDS)
Serious Crime Section
Victim Services

The Crisis Intervention and Suicide Prevention Centre of BC (Crisis Centre) is a non-profit, volunteer organization committed to helping people help themselves and others deal with crisis.
Prince George 250-563-1214

For Families Who Have Lost Children

HOPE that life can still be worth living
and meaningful.

HOPE that the pain of loss will
become less acute,
and above all else,

The HOPE that we do not walk alone,
and that we are understood.

The gift of HOPE is the
greatest gift that we can give
to those who mourn."

Rev. Simon Stephens – Founder

BC Chapters & Contacts

BURNABY - 778-222-0446
burnaby@tcfcanada.net
compassionatecircle@hotmail.com




COMOX VALLEY ~ Campbell River
Note: New Location
Ph: 250-923-2485 Cell: 250-202-2593
ComoxValley@TCFCanada.net




COWICHAN VALLEY ~ DUNCAN - 250-746-0825
CowichanValley@TCFCanada.net



CRANBROOK - 250-489-1000
Cranbrook@TCFCanada.net



KAMLOOPS - 250-374-6030
Kamloops@TCFCanada.net
waskamloops@shaw.ca



KELOWNA - 250-807-2487
Kelowna@TCFCanada.net



MISSION - 604-289-0097
mission@TCFCanada.net

NORTH SHORE (North Vancouver) - 604-878-9904
NorthShore@TCFCanada.net



PORT ALBERNI Contact - 250-735-0810
mvatman@gmail.com


PRINCE GEORGE -250-563-5583
PrinceGeorge@TCFCanada.net



QUALICUM BEACH/Oceanside - 250-752-9132

QUESNEL - 604-886-7334
Quesnel@TCFCanada.net



SALMON ARM - 250-675-3793
s.gquinn@hotmail.com



SURREY-WHITE ROCK - 604-536-6522
Surrey-WhiteRock@TCFCanada.net



VERNON - 250-558-5026
Vernon@TCFCanada.net


VICTORIA - 250-478-9270
Victoria@TCFCanada.net

Other Chapters Alberta - Saskatchewan - Manitoba - Ontario - Quebec - New Bruncwick - Newfoundland

For further assistance with chapter location call: The Compassionate Friends of Canada 1-866-823 – 0141 Email: nationaloffice@tcfcanada.net


How it all began


The Compassionate Friends was founded in Coventry, England in 1969, following the deaths of two young boys, Billy Henderson and Kenneth Lawley, the previous spring. Billy and Kenneth had died just three days apart in the Coventry and Warwickshire Hospital where Rev. Simon Stephens was Assistant to the Chaplain. Simon mentioned Billy's death to Iris and Joe Lawley, and the Lawleys decided to send flowers to Billy's funeral. They signed the card simply, "Kenneth's parents," realizing that the Hendersons would know who they were.
Bill and Joan Henderson then invited the Lawleys over for tea, and an immediate bond was formed as the two couples spoke freely about their boys, sharing their memories and the dreams that had died with Billy and Kenneth. They continued to get together regularly, and young Rev. Stephens, then only 23, encouraged them to invite other newly bereaved parents to join them. In 1969 another grieving mother accepted their invitation to meet with Simon and the two couples. They decided to organize as a self-help group and actively begin reaching out to newly bereaved parents in their community. Because the word "compassionate" kept coming up, this new organization was called "The Society of the Compassionate Friends."
Simon became a chaplain in the British Royal Navy in the 70's. He was met by bereaved parents at ports around the world, and he helped them to develop their own chapters. TCF had become well-known through U.K. and U.S.A. editions of such magazines as Time and Good Housekeeping. Paula and Arnold Shamres of Florida read Simon's interview in Time Magazine and invited him to visit them in Florida and speak to bereaved parents there. He did, and the Shamres subsequently founded the first U.S. chapter in 1972. Word of the organization spread rapidly through interest generated by the Phil Donahue Show and the columns of Dear Abby and Ann Landers.
The Compassionate Friends was incorporated in the United States as a non-profit organization in 1978.
In 1989 The Compassionate Friends of Great Britain dedicated a plaque commemorating the founding of the organization, at the Coventry and Warwickshire Hospital where TCF had begun. The plaque was unveiled by their patron, Countess Mountbatten, herself a bereaved parent.
Then in November, 1994 Queen Elizabeth presented Iris Lawley with a medal, The Most Excellent Order of the British Empire, in recognition of her work on behalf of TCF.
There are now Compassionate Friends chapters in every state in the United States—almost 600 altogether—and hundreds of chapters in Canada, Great Britain and other countries throughout the world. In the United States, chapters are open to all bereaved siblings and other family members who are grieving the death of a child of any age, from any cause.

Support Agencies



Who We Are We


SleepHelp.org is an independently owned and operated, unbiased sleep resource dedicated to bettering your waking life by improving your sleep problems.
Our team of sleep experts makes sense of the common issues affecting your sleep.
We're here to help you understand the impact of sleep disorders, create a long-lasting sleep routine, and provide you the advice you need.


Our Mission


Our goal is to help you get to sleep tonight, and tomorrow night, and every night thereafter.
In order to help you achieve the rest you need to feel recharged and ready for the day, we create in-depth guides on sleep health and tips.
In addition, our team evaluates and reviews products – from mattresses to sleep apps – that help inspire better sleep.
PLEASE SEE DETAILED INFORMATION
Sleep Help Institute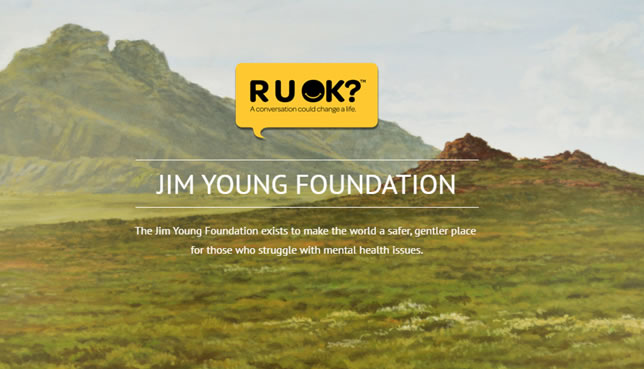 The Jim Young Foundation exists to make the world a safer, gentler place for those who struggle with mental health issues. Jim Young was a talented British Columbian wildlife artist who lived in Prince George, BC. Sadly, in 1992, Jim took his own life after a long, private battle with depression, anxiety and other mental health issues.
The Jim Young Foundation was launched in July 2015 in parallel with the release of the book, Fireflies: Finding Light in a Dark World by Jim's sister, Heather Gordon-Young. Fireflies tells Jim's story. The foundation is governed by a Board of Directors with expertise in counselling psychology; suicide intervention; child and youth mental health; family support programs; international business; and non-profit management.
The Jim Young Foundation is working towards better outcomes for children, youth and adults with mental health issues. The foundation's current priorities include projects whose primary focus is:
(1) to create a world that is safer for people with mental health concerns to be understood, to ask for help, to be supported and to access treatment or
(2) to provide more supports in rural and regional communities.


To register your interest in R U OK? Day 2017 in Canada

R U OK? Day is just getting started in Canada and we'd love to hear from folks who want to get involved. If your community, business, or organization is interested in getting involved in R U OK? 2017 in Canada we'd love to hear from you. Please use this form to get in touch. Thanks for joining in!
REGISTER
- PLEASE ALSO VIEW JIM'S AMAZING ART

MADD CANADA - Mothers Against Drunk Driving
Each year MADD Canada offers our services to 20,000 victims and survivors across Canada.
If you or someone you know has been injured or has lost a loved one as a result of someone else's choice to drive impaired, we have many resources available to you and your family during these difficult times.
MADD - CANADA



MADD.ORG - USA
Our Mission
To end drunk driving, help fight drugged driving, support the victims of these violent crimes, and prevent underage drinking.


The following links are important additions to the above, which provide an overview of research on drunk driving, information on other legal consequences related to DUI and a means of getting help for alcohol problems.
https://findtreatment.samhsa.gov/ - This is the government-sponsored search engine of more than 20,000 drug and alcohol treatment providers, offering different methods and levels of care across the country.
http://singerislandtreatment.com/dui-drugged-driving/ - This is the most comprehensive overview of current research and statistics on drunk driving and DUIs that we could find on the web. The page includes more than 20 citations over governmental and academic authorities on the issue, as well as a discussion of prevention and treatment.
http://americanaddictioncenters.org/alcoholism-treatment/legal-consequences/ - This is an excellent overview of the many types of legal consequences one must face for a DUI, aside from the obvious of jail, suspension and fines. Another good means of deterrence.

Over 750,000 hits have been generated since January - 2005