New Birth – New Beginning
I have an Avery with about 10 Canaries who wake us every morning with beautiful song.
Recently a baby chick was born. It was at a time that I was going through a difficult time and continually saw and felt the pain all around me of those who hurt so bad. It was shortly after that there was that urging of new beginnings, a new focus in my life. Not because I asked for it, but somewhat forced up on me by a God who cares so much for me.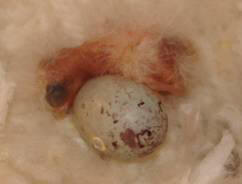 When I look at this baby chick
And my God who created her
Once protected by its shell
Used all its strength to be free
A new birth a new beginning
To face a world of uncertainty
Cuddled underneath her mother's wings
She keeps her warm feeds her daily
My world too has a new beginning
Not because I wanted to
It's God who direct and walks before us
I do not always follow as He directs
Then at times through pain he reminds me
Picks me up and sets me free
Free from thinking I can do it all
I hear him say
Listen to those who love you
Another road I have prepared for you
Please spend time to talk to me
Above all listen to my voice
Those who you left behind
I will hear their cries
Give them up to me
I am Jesus who died for you and them
Learn from me
This world is mine I paid it all
I will calm your heart and fears
If you give it all to me
t.r.