ADDICTION STORIES - ADDICTION RECOVERY


SEE THESE PERSONAL STORIES FOR THOSE WHO HAVE LOST LOVED ONES





PLEASE SEE Subject Locator Index FOR MANY ARTICLE DESCRIPTIONS

TEEN CHALLENGE in BC - One of the Most Amazing Overcoming Addiction Centers Age 19 and Up - Based on Faith in Jesus
45 Warning Signs Of Prescription Drug Abuse
An Interactive Lesson Guide for Parents and Teachers to Teach Kids About Drugs and Alcohol - Completing a Post Rehab Program - Dangerous Drug & Products - Dare BC. Canada, USA - Dear Active Drug User The Mess You'll Leave Behind - Domestic Violence and Drug Abuse – Undeniable Connection - Drug Dangers - Drug Recalls and Alerts - Drug Rehab Connections - Helping an Adult Family Member or Friend with a Drug or Alcohol Problem - Home After Rehab - The Guide to Finding the Right Place for Recovery - INTERVENTION E-BOOK - Is Your Teen Stealing Your Prescription Drugs? - MADD Mothers Against Drunk Driving - Mental Health & Addiction - Nine Reasons to Go to Rehab Today - Post Rehab Success - Substance Abuse in the Workplace - Rehab 4 Addiction - Rehab Centers by Province or Territory in Canada - Teens Addiction and Suicide
The Recovery Village - What to Do If You Have a Problem with Drugs - Who Suffers from Addiction? - Husbands and Wives - 6 Hobbies to Help You Stay Sober
VIEW MORE ARTICLES BELOW

MENTAL HEALTH & ADDICTION
Many people don't realize that addiction often co-occurs with other mental health disorders, and it's critical to treat both conditions in order for afflicted individuals to live happier, healthier lives.

Please view these great resource sites
Comorbidity with Substance Abuse
Schizophrenia and Addiction: The Guide to Unraveling Comorbidity and Finding the Path to Recovery
Bipolar Disorder and Addiction
The Benefits of Exercise in Addiction Recovery
Swim Back to Health: The Guide to Aquatic Therapy for Recovering Addicts
Making the Connection: Trauma and Substance Abuse
Post-Traumatic Stress Disorder and Substance Abuse: Signs, Symptoms, and Treatment
How Service and Therapy Dogs are Helping PTSD Victims
Meaningful Work and Recovery
MENTAL HEALTH SERVICES


At our serene healing centers situated in the Houston and Chicago areas, Ethos Wellness offers compassionate outpatient therapy for navigating emotions, processing life transitions and exploring the self in relation to others. This includes mental, behavioral health and substance use disorders.
SEE WEBSITE FOR COMPLETE DETAILS


THE VISTA TAOS DIFFERENCE
At Vista Taos Renewal Center, your plan to recovery is designed specifically for you or your loved one. With focused attention and compassion, we work alongside each of our clients during their unique recovery process.
Over our 30 years of providing treatment, we've built a program that can deliver the change, freedom, hope and healing that our clients need to make a long-lasting and sustainable recovery.
SEE WEBSITE FOR COMPLETE DETAILS



Optimize Patient Admissions with an Instant Verification of Benefits
Improve speed to treatment and get patients the care they need with real-time access to verification of benefits (VOB) and patient coverage information
THE VIWhen we say instant, we mean instant.
Make fast decisions on admissions for treatment and therapies with instantvob®. Our mobile-first solution saves healthcare, drug rehab admissions teams, and revenue cycle management teams hundreds of hours by providing fast and accurate reimbursement estimates.

Built mobile-first for a digital work environment, our platform is accurate, easy to use, and compliant. Our solution is always-on, to meet the need for 24/7 decision-making and care. instantvob® can help you increase your census, with fewer collection outcomes. The ability to acquire a patient's active status, deductible, co-pay, and co-insurance information when insurance company support is unavailable reduces denials, increases admissions dramatically, and helps ensure insurance payments are received promptly.
SEE WEBSITE FOR COMPLETE DETAILS


"Boardwalk Recovery saved my life! After MANY years of alcohol and cocaine addiction treatment that ended up with me using again, I finally discovered a recovery center that worked for me! "
– ROSS, ALUMNI
SEE WEBSITE FOR COMPLETE DETAILS



Unique Holistic Behavioral Healthcare alongside Psychotherapy



Our holistic behavioral healthcare and psychotherapy are guided by spirituality, psychology, and environment. Our methods affect ourselves and every life we touch. When left untreated, behavioral health issues may disintegrate a person's sense of self while splitting their family apart and creating pain that lasts for generations
At Pacific Beach Health, we understand the heavy burden that behavioral disorders cause—and the long-lasting benefits of a professional mental health therapist. As the only provider of our kind in the Pacific Beach area, we unify dynamic behavioral therapies and psychotherapies to help families find healing and peace
CALL US TODAY: 858.295.8694

SEE WEBSITE FOR COMPLETE DETAILS

Personalized Mental Health Services New Jersey

Empower yourself to live your best life with our outpatient services in the Tristate Area. We provide the flexibility and care you need to regain independence.
Mental Health Services with Professional Care
Our team at True Life Care is dedicated to helping you take control of your mental health through a personalized healing approach and compassionate care. We offer a range of evidence-based treatments in New Jersey to help you manage your mental health and live a fulfilling life.

Counseling and Coaching
Self-Help and Personal Development
Psychotherapy
SEE WEBSITE FOR COMPLETE DETAILS

Choose a Life Worth Living

Located in Boulder, Colorado, Choice House offers men 3 distinct paths to recovery from substance use disorders and co-occurring mental health conditions, so that those who've struggled now have a choice.
we build lasting foundations
inspired recovery in the Rockies
At Choice House, a Boulder area addiction center, we provide inpatient rehab treatment for drug and alcohol addiction with or without co-occurring disorders, with a focus on building a foundation to support long-term sober living in Colorado. There is strong evidence in the addiction field that 30-day residential treatment is usually not a sufficient amount of time to build a foundation strong enough to support long term sobriety. In fact, research shows that the chances for success increase dramatically when an individual spends a minimum of 90 days in a treatment setting.

Choice House, a Boulder, Colorado addiction center, is a premier provider of 90-day residential treatment, intensive outpatient treatment services, and long-term structured sober living designed to support those on their road to lasting recovery. Choice House favors a proven, steady approach that never rushes the inpatient rehab process. Rooted in moral and spiritual principles, our programs help struggling men find meaning and purpose in life through honesty, integrity, and the willingness to work hard. Choice House is here to walk that path alongside everyone who joins our program – helping our clients, build community, find a deep personal and spiritual meaning and fill their lives with recovery, camaraderie and principles to build a life with healthy beliefs and behaviors.

If you or a loved one needs support in the journey to sobriety, Choice House can help.
SEE WEBSITE FOR COMPLETE DETAILS




ABOUT MILE HIGH RECOVERY


Mile High Recovery began in Denver with one sober house in 2016 but quickly grew to nine houses and a recovery treatment center. At Mile High Recovery Center, we help clients heal and create a foundation for long-term recovery. We specialize in individualized, thoughtful, and supportive treatment plans geared toward every client's specific needs. Our rehab programs consist of many therapeutic interventions depending on client needs. Together with our continuing care services, these programs provide the ideal foundation to help you develop the strength, insight, and tools necessary to get healthy and stay healthy.
CONTACT US @ 303-268-2144

SEE WEBSITE FOR COMPLETE DETAILS



ABOUT US
RISE ABOVE TREATMENT
Our progressive Murrieta residential drug rehab center is home to some of the brightest minds in addiction treatment. Our team at Rise Above has been helping people start and maintain their recovery for decades. And it shows. Our California rehabilitation center is the ideal location for a healing and transformative recovery journey. Rise Above offers more than just a chance to get sober. Our Murrieta rehab center's staff is committed to helping people on the path to lifetime recovery
SEE WEBSITE FOR COMPLETE DETAILS



Our Commitment To Sustainable Recovery
At Advaita Integrated Wellness (Advaita Integrated Medicine), our top priority is providing comprehensive and integrative healthcare opportunities, including medication management, psychiatry, Medication Assisted Treatment (MAT), and primary care services to support healing and lasting recovery from mental health challenges or addiction. We believe that a whole-person treatment approach, including individualized therapy and personalized recovery plans, offers the greatest opportunities for long-term success.

Our providers are passionate about empowering individuals in our North Carolina community to take active steps toward wellness and recovery in the way that works best for them.

We know that taking a whole-person approach to wellness is essential. Our therapy and outpatient programs address the physical, emotional, and spiritual needs of the person while also addressing other challenges such as employment, social, and interpersonal relationships. We'll meet you where you're at in your recovery journey and give you the resources and support needed to help you heal.
SEE WEBSITE FOR COMPLETE DETAILS




About Essence Healthcare


At Essence Healthcare, we take into consideration different treatment techniques, ensuring that we offer a truly individualized recovery process for our patients. Every person is unique, so we pride ourselves on establishing a personalized treatment approach for each individual. As such, we blend techniques from AA and other 12-Step programs with best practices from modern treatment methods. Essence Healthcare is located in Hollywood Hills and is large enough to provide instant access to healthcare, yet small enough to make you feel at home.
SEE WEBSITE FOR COMPLETE DETAILS



Addiction can happen to anyone. A drug or alcohol addiction can take many forms, and while there are undoubtedly both internal and external forces that can lead to a larger chance of forming an addiction, this disease is completely color blind.

It doesn't matter what you look like or where you come from, addiction can happen to anyone. There are many misconceptions about people who are drug addicts or alcoholics. Our mission is to help you or your loved one find answers and support on what steps you can take to overcome your addiction.

Millions of Americans struggle with this disease and we are here to help you understand how an addiction can form and from there guide you to proper treatment and rehab.

Help is out there and it is available to you. There are many treatment options, from inpatient rehab to outpatient counseling and support groups. Just because a problem has developed doesn't mean it has to stay a problem.

No matter what your background is, we view you as a person and not just a drug addict. Know that you are loved and cared for, and we will do whatever it takes to help

Visit these links and find much more
Including - College Drug Abuse - Teen Drug Abuse


The Recovery Village is a Florida rehab center
We can help you overcome your addiction today



The Recovery Village is a comprehensive substance abuse and eating disorder treatment facility in Florida, offering a full continuum of care from a patients' arrival. In addition to medical detox and acute medical stabilization, we offer nutrition monitoring and medical intervention, inpatient, residential, partial hospitalization, intensive outpatient, sober housing accommodations, and aftercare.
SEE WEBSITE

Domestic Violence Resources
Domestic violence can take many forms, with the most common types being physical violence, rape, verbal threats and emotional or psychological abuse. In the U.S., domestic violence is commonly associated with cases of sexual assault, stalking, homicide, mental illness and suicide. The pervasiveness and complexity of domestic violence means that anyone — regardless of age, gender, sexuality, ethnicity, religion or social standing — can be affected by this kind of abuse at any point in their life.

Every minute, an average of 20 people are physically abused by an intimate partner in the United States, according to the Centers for Disease Control and Prevention (CDC). This equates to more than 10 million people per year. What's also alarming is the fact that there may be thousands of other victims of domestic violence who never report it, or never get the chance to. Whether you suspect you are in an abusive relationship, or you know someone who is, this page can answer your questions and connect you to the help you need.
1.0 How to Recognize Signs of Domestic Violence
2.0 How to Get Out of an Abusive Relationship
3.0 How to Help a Domestic Violence Victim
4.0 How Domestic Violence and Substance Abuse Are Connected

PLEASE VIEW WEBSITE


Who Suffers from Addiction? - Husbands and Wives

Anyone who has been married to a person with an addiction problem knows without any doubt at all that addiction is destructive to a marriage. For some, addiction existed before the marriage and for others, it developed after the vows were said.
SEE WEBSITE NARCONON


Addiction and sleep share a problematic bidirectional relationship, where each influences the other. Many people treat sleep problems with drugs and alcohol, which can lead to addiction. People who are already addicted to drugs and alcohol undergo changes in their sleep architecture and sleep needs, forcing them to increasingly rely on their addiction in order to sleep. Once in recovery, one of the main reasons many people relapse is the discomfort and insomnia they experience, compounded by the long period of time it takes for the body to adjust back to normal sleep without drugs and alcohol.
In this guide we'll explore the common sleep disorders associated with addiction, the cyclical relationship between addiction and sleep, and suggested resources and strategies for managing sleep during recovery.
VIEW MANY SUBJECTS SUCH AS:
Addiction and sleep deprivation - Drug- and Alcohol-Related Sleep DisorderS - The Relationship Between Sleep and Addictions - Opioid Addiction and Sleep - Sleep Medication Addiction and Overuse - Addiction Recovery - Insomnia and recovery - Natural Sleep Aids During Recovery
PLEASE VIEW COMPLETE WEBSITE


Returning to work is a critical part of recovery for many former addicts. As a supervisor, learn how you can best support an employee.
PLEASE VIEW COMPLETE DETAILS ON WEBSITE
Co-Occurring Disorders
Formerly known as dual diagnosis or dual disorder, co-occurring disorders describes the presence of both a mental health and a substance-use disorder. For example, a person may be abusing a narcotic and also have bipolar disorder.
Definition
The term co-occurring disorder replaces the terms dual disorder and dual diagnosis when referring to an individual who has a co-existing mental illness and a substance-use disorder. While commonly used to refer to the combination of substance-use and mental disorders, the term also refers to other combinations of disorders (such as mental disorders and intellectual disability).
Clients with co-occurring disorders (COD) typically have one or more disorders relating to the use of alcohol and/or other drugs as well as one or more mental disorders. A client can be described as having co-occurring disorders when at least one disorder of each type can be established independent of the other and is not simply a cluster of symptoms resulting from another disorder.
Common examples of co-occurring disorders include the combinations of major depression with cocaine addiction, alcohol addiction with panic disorder, alcoholism and poly-drug addiction with schizophrenia, and borderline personality disorder with episodic poly-drug abuse. Thus, there is no single combination of co-occurring disorders; in fact, there is great variability among them.
The combination of a substance-use disorder and a psychiatric disorder varies along important dimensions, such as severity, chronicity, disability, and degree of impairment in functioning. For example, the two disorders may each be severe or mild, or one may be more severe than the other. Additionally, the severity of both disorders may change over time. Levels of disability and impairment in functioning may also vary.
People with co-occurring disorders often experience more severe and chronic medical, social, and emotional problems than people experiencing a mental health condition or substance-use disorder alone. Because they have two disorders, they are vulnerable to both relapse and a worsening of the psychiatric disorder. Further, addiction relapse often leads to psychiatric distress, and worsening of psychiatric problems often leads to addiction relapse. Thus, relapse prevention must be specifically designed for the unique needs of people with co-occurring disorders. Compared to patients who have a single disorder, patients with co-existing conditions often require longer treatment, have more crises, and progress more gradually in treatment.
Approximately 7.9 million adults in the United States had co-occurring disorders in 2014.
SEE WEBSITE FOR MUCH MORE INFORMATION
6 Hobbies to Help You Stay Sober
Helping an Adult Family Member or Friend with a Drug or Alcohol Problem
Do you have an adult family member or friend with a drug or alcohol problem? You're probably wondering how you can help. Here are 7 answers to questions you may be asking.
SEE THE 7 ANSWERS HERE

Nine Reasons to Go to Rehab Today

Go to rehab. You need to go. Sooner or later it has to happen. Things have been slipping away for a while now, and everything is almost gone.
You don't want to go to rehab. No one does. It is scary to be away from those you love. It is depressing to think about living in austere conditions and giving up pieces of your freedom. Worst of all, if you go to rehab, you will have to give up your addiction—and how terrifying is that? Who would you be if you weren't a drunk or an addict?
But one thing is for sure to you and to those around you. You need to go. Sooner or later it has to happen—things have been slipping away for a while now, and everything is almost gone. You've been procrastinating for as long as you could. You had a good run, but your bag of tricks is almost empty and you need help. You need help now. Today.
Here are nine reasons that you need to go to rehab today.
SEE WEBSITE HERE For Much More Information
Home After Rehab: The Guide to Finding the Right Place for Recovery
If you've decided to relocate after entering addiction recovery, it's important to find the right home that will promote your continued sobriety and overall wellness. You'll want to find a place that helps you create a healthy, consistent routine without throwing you into the paths of old triggers. You'll also want a loving environment to rebuild your relationships and bond with your family, a place where you can heal and focus on your recovery.
Let this be your guide to finding the best new home to keep your addiction recovery on track. It will discuss considerations to make about your new neighborhood, the home itself and offer advice on ways to make your new environment promote a healthy life. As you explore your options, be sure to keep your partner informed about your thoughts and make each decision a joint consensus.
SEE WEBSITE HERE

PLEASE SEE

Subject Locator Index

FOR MANY ARTICLE DESCRIPTIONS

TEEN CHALLENGE BC

One of the Most Amazing Overcoming Addiction Centers
Age 19 and Up
Based on Faith in Jesus

SEE BELOW


Teen Challenge BC - Who Are We
Information Page

Questions and Answers
Contact Information
Abbotsford - Chilliwack - Okanangan


BC

CANADA

AMERICA
PLEASE SEE
Subject Locator Index
FOR MANY ARTICLE DESCRIPTIONS
6 Hobbies to Help You Stay Sober
REHAB 4 ALCOHOLISM PROVIDES INDEPENDENT ADVICE FOR THOSE SEEKING ALCOHOL REHABILITATION. WEOFFER TREATMENT PROGRAMMES THROUGHOUT THE UNITED KINGDOM AND ABROAD.

Rehab 4 Alcoholism offers a free helpline and intervention service for people suffering from alcoholism and mental health problems. Website: http://www.rehab4alcoholism.com/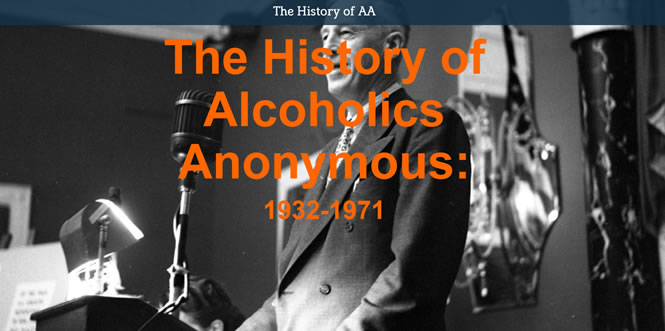 A History of Alcoholics Anonymous by Oliver Clark - this visual and auditory history of AA spans the period 1932-1971.


KEEPING YOU INFORMED
See Recall Report WEBSITE
Recall Report was created to alert the public to the latest information on dangerous drugs and products. With hundreds of suspected or confirmed dangerous drugs and products on the market, the up-to-date information we provide on recalls, alerts, and side effects is vital to keeping your family safe



DANGEROUS DRUG AND PRODUCT - RECALLS AND ALERTS
Drugs and medical devices always have the potential to be harmful. They are expected to have the potential to cause side effects while treating conditions and symptoms because it is impossible to make medications that perfectly target just one thing. For most people with most devices and medications, side effects are mild, tolerable, and worth the benefits of using that device or drug.
On the other hand, sometimes the risks are not worth the benefits and patients suffer terribly. When a drug or device manages to get past the testing of a drug company, or that company intentionally lets it get through, and it is found to cause an unacceptable level of harm, it may be recalled. Dangerous drug and product recalls may be instigated by the drug company or issued by the U.S. Food and Drug Administration (FDA). Either way, these recalls often come too late for some patients.
SEE WEBSITE HERE FOR MOR DETAILED INFORMATION


Drugs & Devices
Thousands of Americans turn to medical attention to help improve their quality of life and relieve them of pain and suffering. Medications and implant surgeries, such as hip or knee replacement, can change and even save lives.
However, pharmaceutical companies often cut corners where accuracy matters most – consumer safety. Insufficient lab testing and deceptive marketing tactics have cost thousands of patients their lives. Prescription medications have caused users to suffer detrimental side effects and implant surgeries have left victims in great pain. Pharmaceutical companies earn billions of dollars every year from these products at the expense of their users.
Please See Website Drug Dangers

The 45 Warning Signs Of Prescription Drug Abuse
NOTICE THE SIGNS AND SYMPTOMS OF ABUSE BEFORE IT IS TOO LATE TO GET HELP
SEE REHAB.ORG
Home After Rehab: The Guide to Finding the Right Place for Recovery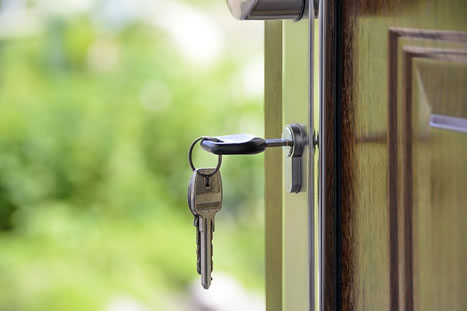 If you've decided to relocate after entering addiction recovery, it's important to find the right home that will promote your continued sobriety and overall wellness. You'll want to find a place that helps you create a healthy, consistent routine without throwing you into the paths of old triggers. You'll also want a loving environment to rebuild your relationships and bond with your family, a place where you can heal and focus on your recovery.
Let this be your guide to finding the best new home to keep your addiction recovery on track. It will discuss considerations to make about your new neighborhood, the home itself and offer advice on ways to make your new environment promote a healthy life. As you explore your options, be sure to keep your partner informed about your thoughts and make each decision a joint consensus.
PLEASE SEE REDFIN WEBSITE FOR MORE INFORMATION

PLEASE SEE
Subject Locator Index
FOR MANY ARTICLE DESCRIPTIONS
Guide to Avoiding Alcohol & Drug Abuse in College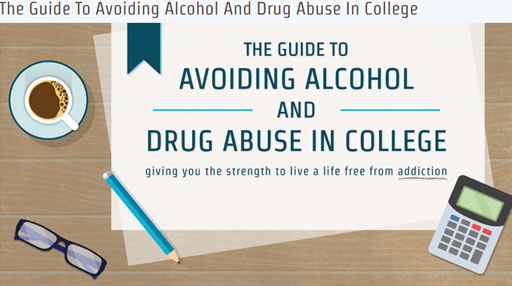 Addiction Recovery & Long Term Success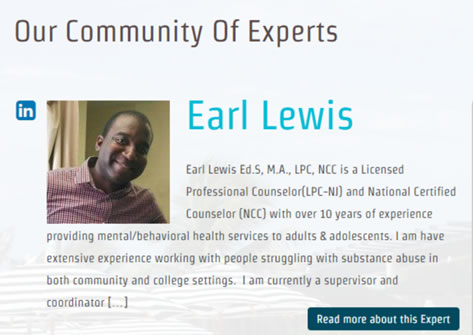 PLEASE SEE
Subject Locator Index
FOR MANY ARTICLE DESCRIPTIONS
6 Hobbies to Help You Stay Sober
DRUG REHAB USA

TEEN DRUG ABUSE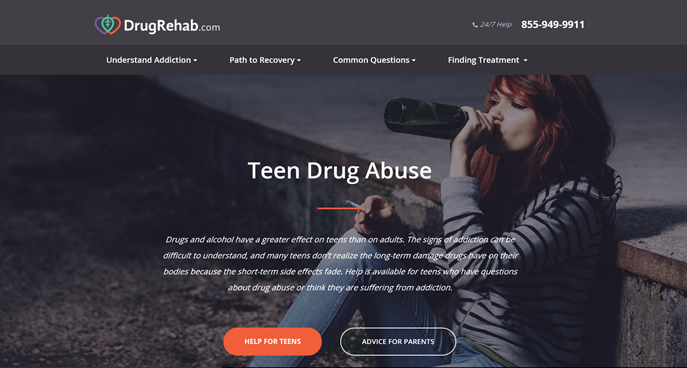 DrugRehab.com is a web resource provided by Advanced Recovery Systems (ARS). ARS is an integrated behavioral health care management organization dedicated to the treatment of addiction, substance abuse, eating disorders and mental health issues.

PREVENTING TEEN DRUG ABUSE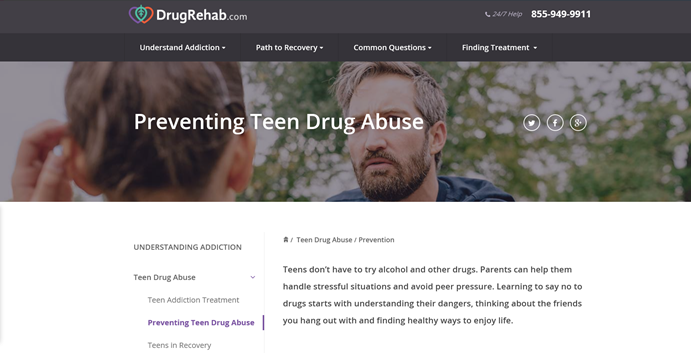 Domestic Abuse and Addiction


DRUG REHAB - AL-ANON - HOW LONG DOES REHAB TAKE - RESOURCES FOR MOMS & Much More